ASOM-520-D Dental Microscope With Motorized Zoom And Focus
Product Detail
Product Tags
Product introduction
This microscope is used for restorative dentistry, pulp disease, restorative dentistry and cosmetic dentistry, as well as periodontal disease and implant. The electric zoom & focus functions are operated with one button, and you can enjoy better visualization effect through the high-definition integrated image system. The ergonomic microscope design improves your body comfort.
This oral dental microscope is equipped with a 0-200 degree tiltable binocular tube, 55-75 pupil distance adjustment, plus or minus 6D diopter adjustment, handle electric control continuous zoom, 200-500mm large working distance objective, built-in CCD image system handle one-click video capture, support the display to view and playback pictures, and can share your professional knowledge with patients at any time. 100000 hours LED lighting system can provide sufficient brightness.You can see the fine anatomical details you must see. Even in deep or narrow cavities, you can use your skills accurately and effectively.
Features
American LED: Imported from the United States, high color rendering index CRI > 85, high service life > 100000 hours
German spring: German high performance air spring, stable and durable
Optical lens: APO grade achromatic optical design, multilayer coating process
Electrical components: High reliability components made in Japan
Optical quality: Follow the company's ophthalmic grade optical design for 20 years , with high resolution of over 100 lp/mm and large depth of field
Stepless magnifications: Motorized 1.8-21x , which can meet the use habits of different doctors
Large zoom: Motorized 200 mm-500 mm Can cover a large range of variable focal length
Integrated image system: Handle control, support record pictures and videos.
Optional wireless / wired pedal handle: More options, doctor's assistant can take photos and videos remotely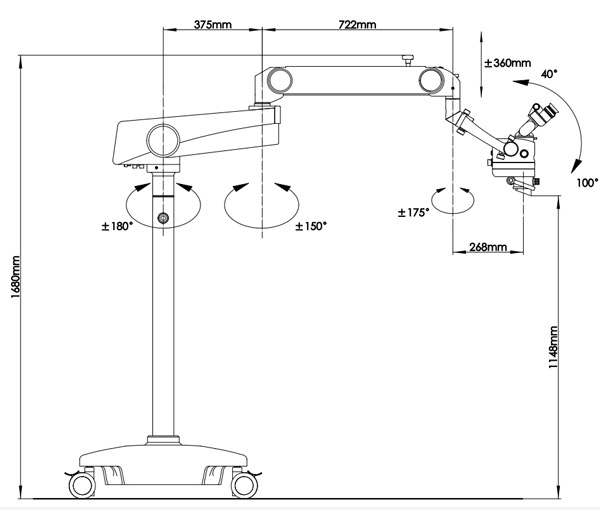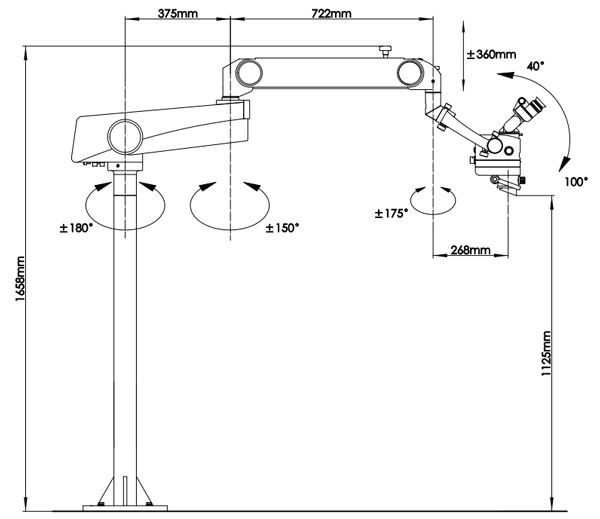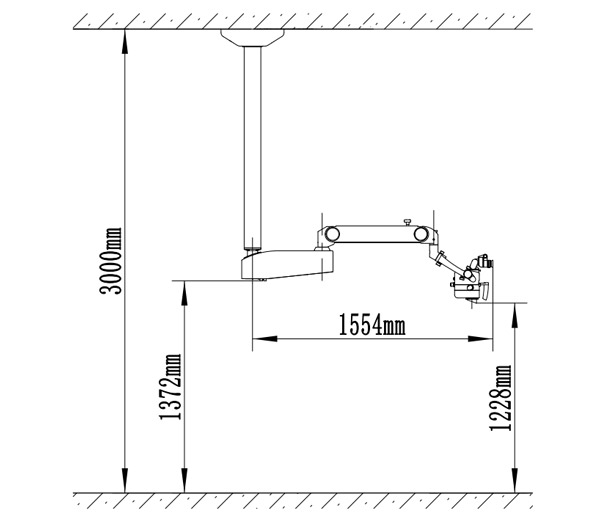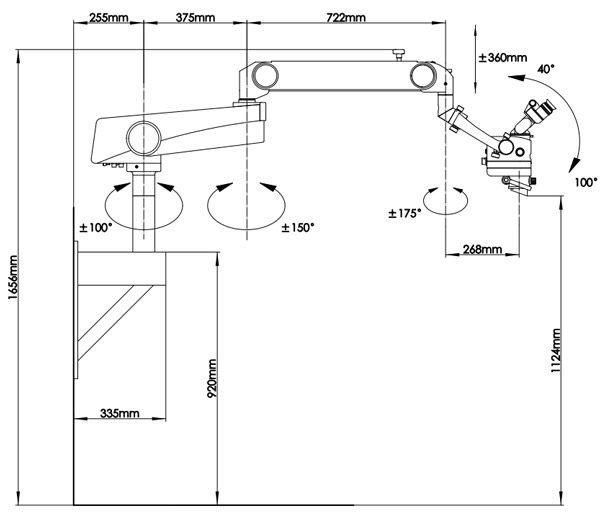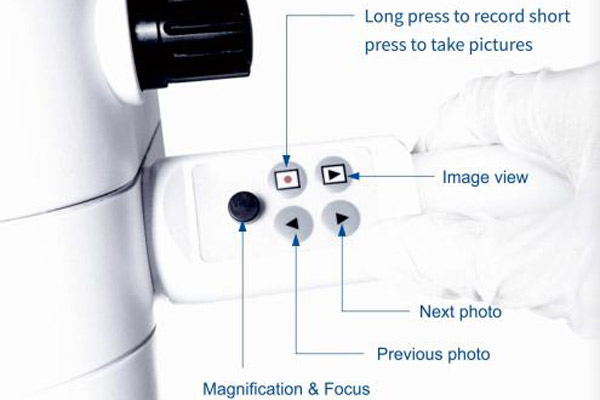 Multi-function handle
The ergonomically designed multi-function handle can operate zoom, focus, take photos, record videos, browse and playback pictures with one hand.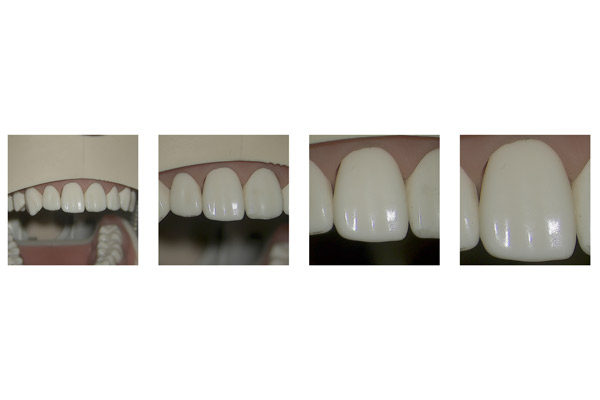 Motorized magnifications
Electric continuous zoom, can be stopped at any appropriate magnification.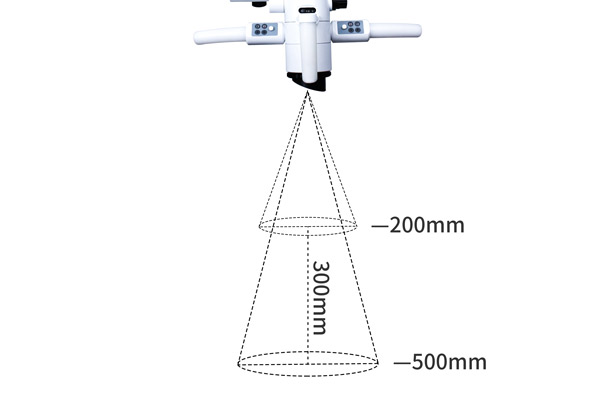 VarioFocus objective lens
The large zoom objective supports a wide range of working distance, and the focus is adjusted electrically within the range of working distance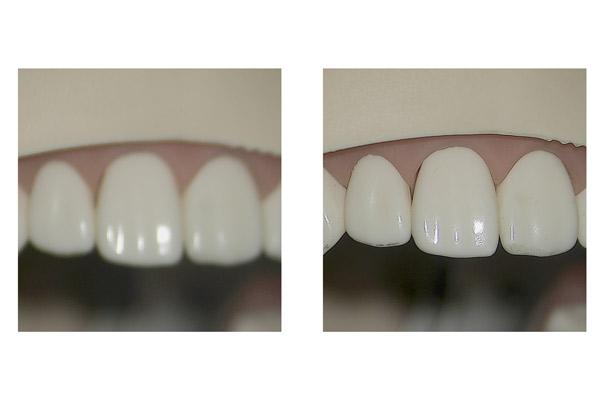 Autofocus function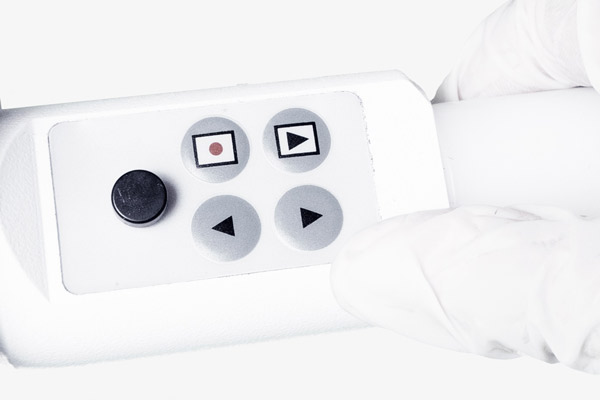 Integrated CCD recorder
Integrated CCD recorder system controls taking pictures, taking videos and playing back pictures through the handle. Pictures and videos are automatically stored in the USB flash disk for easy transfer to the computer. USB disk insert in the arm of the microscope.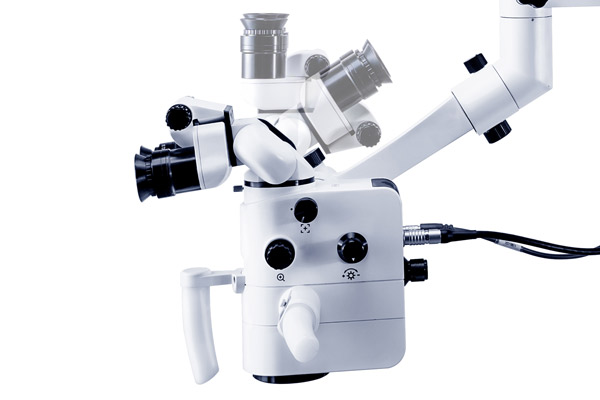 0-200 Binocular tube
It conforms to the principle of ergonomics, which can ensure that clinicians obtain clinical sitting posture that conforms to ergonomics, and can effectively reduce and prevent muscle strain of waist, neck and shoulder.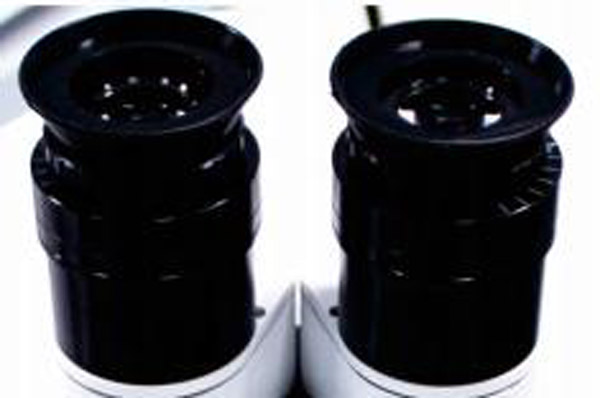 Eyepiece
The height of the eye cup can be adjusted to meet the needs of the clinicians with naked eyes or glasses. This eyepiece is comfortable to observe and has a wide range of visual adjustment.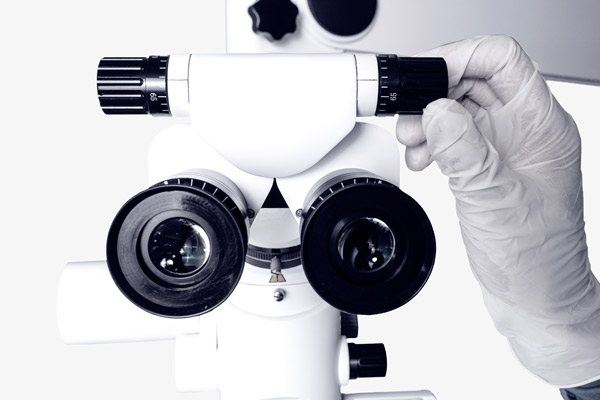 Pupil Distance
Precise pupil distance adjustment knob, the adjustment accuracy is less than 1mm, which is convenient for users to quickly adjust to their own pupil distance.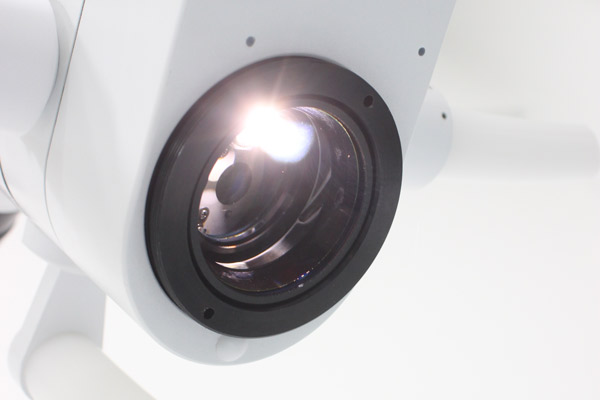 Build-in LED illumination
Long life medical LED white light source, high color temperature, high color rendering index, high brightness, high degree of reduction, long time use and no eyes fatigue.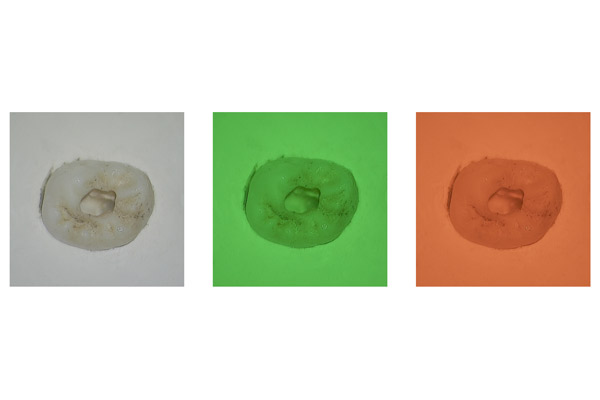 Filter
Built in yellow and green color filter
Yellow light spot: It can prevent the resin material from curing too quickly when exposed.
Green light spot: see the tiny nerve blood under the operating blood environment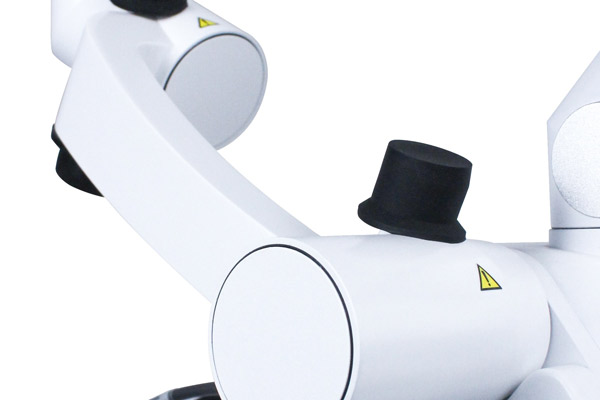 120 degree balance arm
The torque and damping can be adjusted according to the load of the head to maintain the balance of the microscope. The angle and position of the head can be adjusted by one touch, which is comfortable to operate and smooth to move.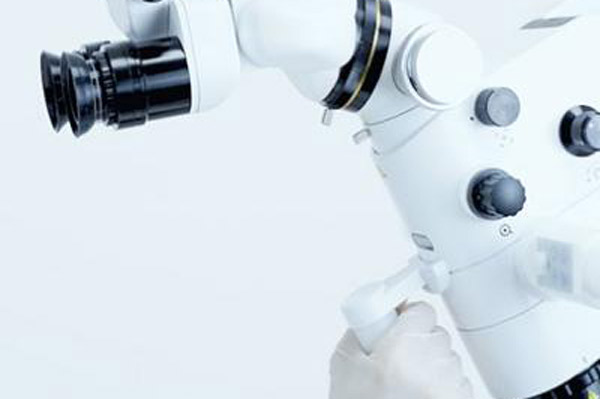 Vertical handle
The vertical handle can adjust the angle and position of the head with one hand, which conforms to the ergonomics, and the dentist's arm is in a natural pendulous state.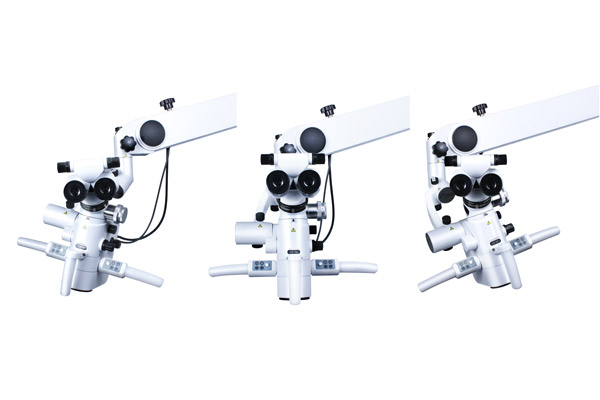 Head pendulum function
The ergonomic function specially designed for oral general practitioners, under the condition that the doctor's sitting position remains unchanged, that is, the binocular tube keeps the horizontal observation position while the lens body tilts to the left or right.
Packing details
Head Carton: 595×460×330(mm) 11KG
Arm Carton: 1200*545*250 (mm) 34KG
Base Carton: 785*785*250(mm) 59KG
Specifications
Model
ASOM-520-D
Function
Dental/ENT
Electrical data
Power socket
220v(+10%/-15%) 50HZ/110V(+10%/-15%) 60HZ
Power consumption
40VA
Safety class
class I
microscope
Tube
0-200 degree inclinable binocular tube
Magnification
Motorized control by handle, Ratio 0.4X~2.4X ,total magnification 2.5~21x
Stereo base
22mm
Objectives
Motorized control by handle, F= 200mm-500mm
Objective focusing
120mm
Eyepiece
12.5x/ 10x
pupil distance
55mm~75mm
diopter adjustment
+6D ~ -6D
Feild of veiw
Φ78.6~Φ9mm
Reset functions
yes
Light source
LED cold light with life time >100000 hours, brightness >60000 lux , CRI>90
filter
OG530, Red free filter, small spot
Banlance arm
120° Banlance arm
Automatic switching device
Built-in arm
Imaging system
Build-in Full HD camera SONY 1/1.8 ,Control by Handle
Light intensity adjustment
Using a drive knob on the optics carrier
Stands
Max extension range
1100mm
Base
680 × 680 mm
Transportation height
1476 mm
Balancing range
Min3 kg to max 8 kg load on the optics carrier
Brake system
Fine adjustable mechanical brakes for all rotation axes
with detachable brake
System weight
108 kg
Stand options
Ceiling mount,Wall mount,Floor plate,Floor stand
Accessories
Knobs
sterilizable
Tube
90°binocular tube + 45°Wedge splitter, 45° binocular tube
Video adapter
Mobile phone adapter, beam splitter, CCD adapter, CCD, SLR digital camera adaper,camcorder adapter
Ambient conditions
Use
+10°C to +40°C
30% to 75% relative humidity
500 mbar to 1060 mbar atmospheric pressure
Storage
–30°C to +70°C
10% to 100% relative humidity
500 mbar to 1060 mbar atmospheric pressure
Limitations on use
The surgical microscope may be used in enclosed rooms and
on flat surfaces with max. 0.3° unevenness; or at stable walls or ceilings that fulfill
microscope specifications
Q&A
Is it a factory or a trading company?
We are a professional manufacturer of surgical microscope, established in the 1990s.
Why choose CORDER?
The best configuration and the best optical quality can be purchased at a reasonable price.
Can we apply to be an agent?
We are seeking long-term partners in the global market
Can OEM&ODM be supported?
Customization can be supported, such as LOGO, color, configuration, etc
What certificates do you have?
ISO, CE and a number of patented technologies.
How many years is the warranty?
Dental microscope has a 3-year warranty and lifelong after-sales service
Packing method?
Carton packaging, can be palletized
Type of shipping?
Support air, sea, rail, express and other modes
Do you have installation instructions?
We provide installation video and instructions
What is HS code?
Can we check the factory? Welcome customers to inspect the factory at any time
Can we provide product training?
Online training can be provided, or engineers can be sent to the factory for training
---
---
Write your message here and send it to us